Sustainability and meat quality in organic slaughter pig production
Two new organic projects at AU Foulum focus on sustainable slaughter pig production with 100% locally produced feed as well as meat quality and shelf life.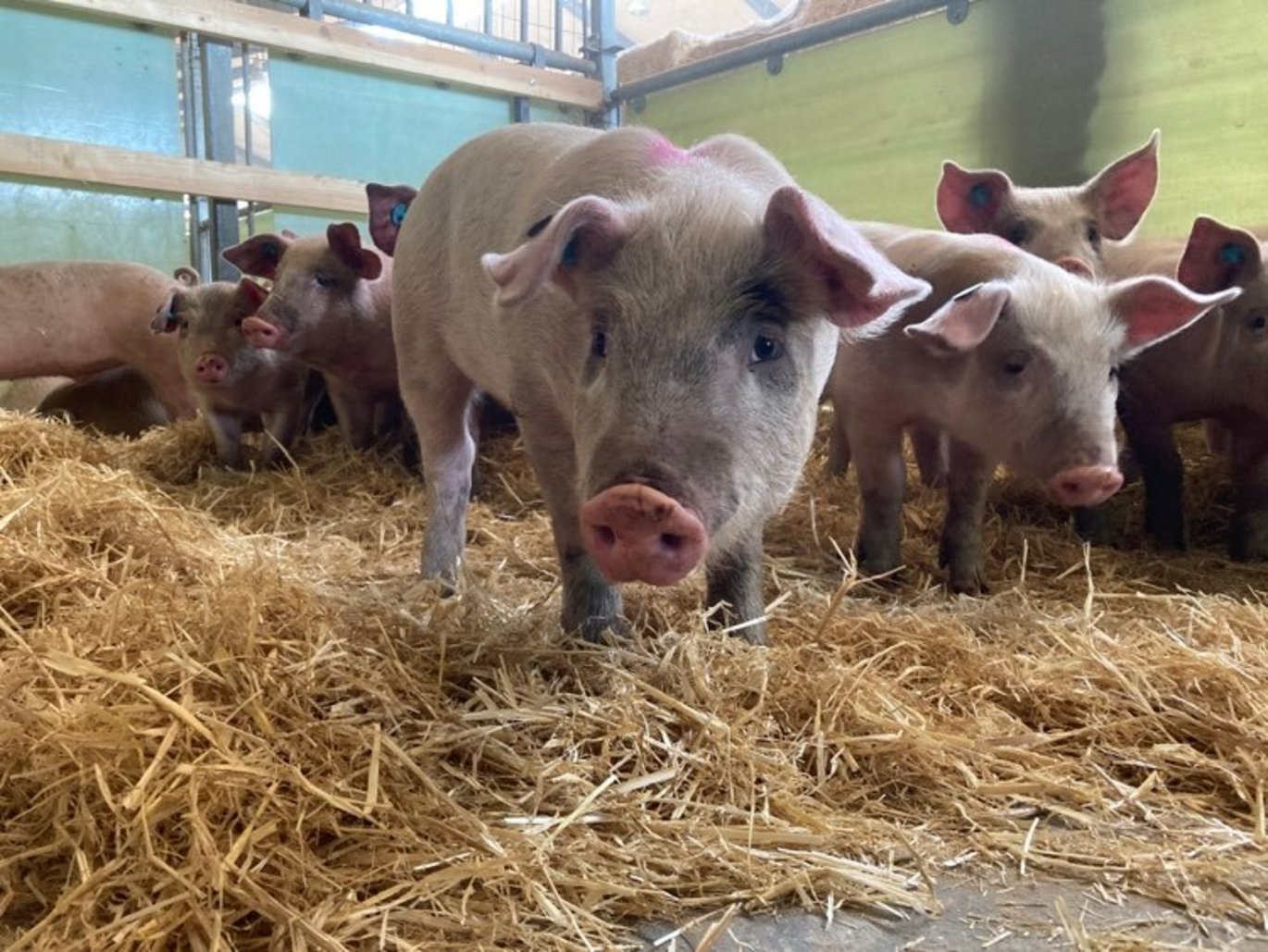 At present, construction workers are busy at the organic platform at Aarhus University in Foulum. The University needs to build fifteen new outdoor runs for organic slaughter pigs due to a new large organic research project called "ENTRANCE". The aim of the project is to develop resource-efficient feeding strategies for Danish organic slaughter pigs based on 100% Danish produced feed.
"Organic pig production is challenged by low feed utilisation and dependency of imported protein sources. This increases the nutrient loss, the climate footprint and the need for agricultural land. Therefore, new feeding strategies are required to ensure herd economy, the organic principles and a reduced climate footprint from organic pigs. The ENTRANCE project aims to provide solutions to these challenges", says Postdoc Maria Eskildsen from Department of Animal Science, Aarhus University.
How to conduct the feed experiment
The feeding experiment at the organic platform will be run with 270 pigs in two periods; the summer and winter of 2022. The 30 kilo weaners will be divided into five groups with different treatments during summer and four treatments during winter. The experimental diets will consist of standard commercial compound feed with imported soybean meal as the primary protein source as well as diets, where the soybean meal is substituted with different levels of Green protein, produced from on Danish grass clover. The experimental diets will be mixed at Foulum's feed factory, which enables a 100% control of the ingredients.
Moreover, fresh grass clover or grass clover silage will be allocated during summer, and grass clover pulp or grass clover silage as roughage during winter (see table). This clarifies the effect of a grass clover-based diet in two seasons, and the potential of fresh grass clover as roughage for organic slaughter pigs.
The Green protein included in the experiment is produced at AU Foulum's Biorefining Plant just like all three types of roughage are harvested from the same field at the organic platform. The pigs are slaughtered at approximately 115 kg live weight at the Danish Crown abattoir in Herning.
Table: In total, 270 organic piglets are inserted at the organic platform at AU Foulum in two independent experimental periods: summer and winter.
Summer 2022

14 weeks

Green

Protein

(Normal protein level)

Green

Protein

(Low protein level)

Soy

Protein

(Normal protein level)

Winter 2022/2023

14 weeks

Green Protein

(Normal Protein level)

Soy Protein

(Normal protein level)

Fresh grass clover

30 animals

30 animals

30 animals

Grass clover pulp

30 animals

30 animals

Grass Clover silage

30 animals

30 animals

Grass Clover silage

30 animals

30 animals
Studies in the ENTRANCE project
Biorefined Green protein is a sustainable and local alternative to imported soybean meal while allocation of roughage can contribute with important amino acids in the feed ration. This probably makes it possible to reduce the protein level in the compound feed.
During the project, the researchers study daily gain, feed utilisation, energy and protein metabolism, body condition, emission of climate gasses and the balance of nitrogen and protein. Hence, some of the animals are transferred to the newly built pig climate chambers at AU Foulum's experimental barn during the experiment.
"With the new strategies, we expect to be able to reduce both nitrogen leaching and greenhouse gas emission from organic pigs. In this way, the project will help solve some of the biggest challenges in organic pig production, which will be beneficial to the entire sector", says Maria Eskildsen.
New add-on project will study the meat quality
Concurrent with the ENTRANCE project, another organic research project (GRATIS) will be conducted. It is a so-called add-on project to ENTRANCE. The purpose of this project is to look at the meat quality as well as the shelf life of the pork from the ENTRANCE pigs.
"In previous experiments with organic slaughter pigs, we have shown, that the meat quality is affected by the feed composition. Feed with a higher amount of Green protein will among others result in a high amount of polyunsaturated amino acids, especially omega 3 amino acids, in the meat. This results in a healthier amino acid profile but may also increase the risk of rancidity and an unpleasant aftertaste, which will negatively affect the meat quality. Therefore, we wish to document sensory differences and the shelf life of pork based on different levels of Green protein in the GRATIS project", says Assistant Professor Lene Stødkilde from Department of Animal Science, Aarhus University.
Study of taste, odour and texture
At slaughter, the researchers will register the weight and the lean meat percentage, and they will take out meat (loins) for further examination. "After this, the meat quality will be tested by means of a trained sensory panel at the Danish Technological Institute in Taastrup. The panel assesses taste, odour and texture from fixed parameters. The loins will be stored frozen for either one or six months to compare the conditions in the supermarkets and in private households. After this, the meat will be thawed and prepared before conducting a sensory assessment to evaluate whether the meat quality has undergone a measurable deterioration during storage", says Associate Professor Margrethe Therkildsen from Department of Food Science, Aarhus University, who participates in the project.
Finally, the researchers will take out a lard sample at slaughter, which together with a smaller piece of loin is used for laboratory decision of fat composition and the level of antioxidants (vitamin E) from both the summer and winter experiment. Furthermore, various indicators of the level of rancidity and protein degradation will be assessed.
"An increased use of Green protein will enable an increased level of self-sufficiency in the herds – both conventionally and organically. However, in order to succeed in strengthening the sales of pork based on Green protein, it is essential that we identify any challenges with the sustainability and meat quality after storage", Lene Stødkilde explains.
Both projects (GRATIS and ENTRANCE) are launched in June 2022 and run until 2024 and 2025, respectively.
Further information

We do our best to make sure that all our articles live up to Universities Denmark's principles of good research communication. Therefore, the article is supplied with the following information:

Type of study


Experiments as well as development and demonstration

Funding (ENTRANCE)

The ENTRANCE project is part of the Organic RDD 7 programme which ICROFS (International Centre for Research in Organic Food Systems) coordinates. It has received funding from the Green Development and Demonstration Programme (GUDP) under the Ministry of Food, Agriculture and Fisheries of Denmark.

Funding (GRATIS)

The GRATIS project is funded by the Danish Pig Levy Fund.

Partners (ENTRANCE)

I ENTRANCE projektet indgår følgende samarbejdspartnere:

AU ANIS

AU AGRO

AU BCE

Center for Frilandsdyr (Centre for free-range animals)

Innovationscenter for Økologi (Innovation Centre for Ecology)

SEGES

Vestjyllands Andel

Organic pig producer Mads Kristensen

Samarbejdspartnere (GRATIS)

AU ANIS

AU FOOD

Danish Technological Institute in Taastrup

Read more

GRATIS – Green protein for slaughter pigs (au.dk)

Contact

Postdoc Maria Eskildsen, Department of Animal Science, Aarhus University. E-mail: Maria.Eskildsen@anis.au.dk

Assistant professor Lene Stødkilde, Department of Animal Science, Aarhus University. E-mail: lsj@anis.au.dk