Animal behaviour and welfare scrutinised in Aarhus
From 7-10 August, Aarhus University hosted the yearly conference in International Society for Applied Ethology (ISAE). Therefore, researchers from all over the world gathered in Aarhus to share and discuss new knowledge of animal behaviour.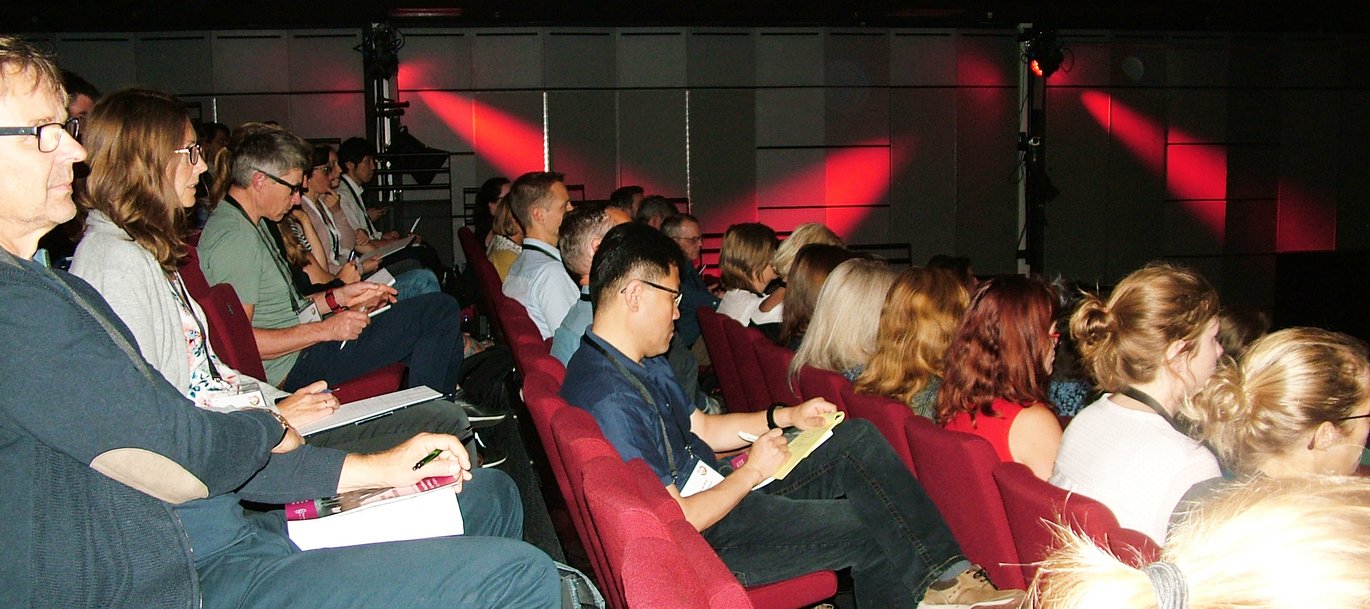 ISAE was founded in 1966 in Scotland to support research in animal behaviour – especially focusing on creating a better balance between animal welfare and the way animals are being kept by man. Every year, ISAE hosts an international conference, and this year the conference was organised by researchers from the Department of Animal Science at Aarhus University.
The main theme of this year's conference was "Understanding animal behaviour", and three hundred researchers and other interested people participated from 41 countries. During the four-day conference, the participants were updated on the most recent knowledge within the many aspects of behavioural research.
"We have chosen 'Understanding Animal Behaviour' as the overall theme because we want this conference to focus on the core of applied ethology, such as the animals' social behaviour and parental behaviour, but also on subjects relating more directly to our handling of animals, such as learning and stress," says senior scientist Margit Bak Jensen, who was head of the conference organising committee.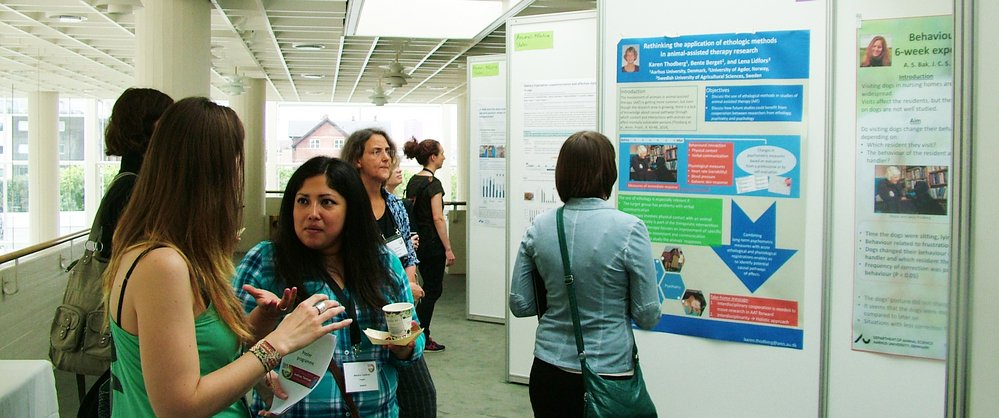 The conference took place at the Music Hall in Aarhus. On the first floor, a big poster session was arranged, resulting in many scientific discussions among the participating researchers. Photo: Linda S. Sørensen
Animal senses on the programme
The subject "Animal senses" was a new subject at this year's conference. Professor Peter Teglberg Madsen from Aarhus University opened the conference giving an inspiring presentation on behaviour in whales. Whales may seem far from farm animals, which often get the greatest attention among applied ethologists, but the presentation illustrated several overlapping issues between farm animals and wild animals – and, not least, how important knowledge of the animals' sensory system is to understand how human activity affects the animals. Subsequently, selected presentations about farm animals such as mink showed that also in this field, knowledge of animals' senses and perception of the world is essential to understand the behaviour of farm animals and their needs in the production environment.
Positive aspects of social behaviour
Jean-Loup Rault from the University of Vienna gave a plenary presentation on animals' social behaviour focusing on the positive consequences of social behaviour. Most farm animals are gregarious in the wild, and knowledge of their social behaviour is necessary to design group housing and group management in a way that makes the animals feel well and thrive. "Social animals such as cattle make social bonds to preferred social partners. Keeping animals in stable groups will boost the positive social behaviour. This will result in the animals being less fearful and easier to handle," says Jean-Loup Rault.
Cathy Dwyer from SRUC in Scotland gave a presentation focussing on parental care and what this means to the dam. Based on studies on sheep, Cathy explained how taking care of the young is connected to positive experiences and thus increased animal welfare besides being rather cost-intensive to the animal.
Facial expressions and animal welfare
Emotional conditions of animals is an important factor when assessing animal welfare. Kris Descovich from the University of Queensland, Australia, presented the status of the use of animals' facial expressions in relation to animal welfare assessment. She concluded that facial expressions tell much about animals' emotional conditions and thus their well-being. Kris recommended including facial expressions more in future studies on animal behaviour. At the same time, she stated that the relation facial expressions and animal welfare is not simple and that facial expressions cannot stand alone. Therefore, the best thing to do is to combine the facial expressions with more traditional behavioural measures, such as aggression and abnormal behaviour.
"Student Lunch" and "Global Development Lunch" – a great success
In order to facilitate contact between experienced researchers and students the conference invited to a so-called "Student Lunch". Here, students had the opportunity to book a lunch meeting with an experienced researcher whose research area was of particular interest to them. This resulted in many good discussions during lunch.

Many researchers and students accepted the offer to meet at the so-called "Student Lunch" event, giving students the opportunity to discuss subjects with an experienced researcher whose research area was of particular interest to them. Photo: Linda S. Sørensen
This year, the Open Philanthropy Project supported travel scholarships for 14 scientists from developing nations to attend the conference. The purpose included supporting and stimulating behavioural research in countries with no financial resources to travel or participate in conferences. Therefore, Thursday's lunch was dedicated to this new group of participants at the conference.
The conference was sponsored by SEGES, Boehringer Ingelheim, Loligo Systems, DeLaval and CABI.
---
Further information
Margit Bak Jensen, Department of Animal Science, Aarhus University
Email: MargitBak.Jensen@anis.au.dk